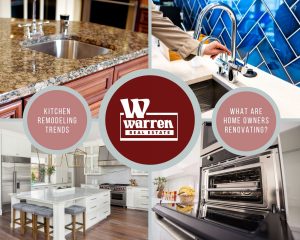 2020 was certainly a year of challenges and adaptation – many articles that we have seen and the clients we have talked to have given us insight about the current market trends.
"With more time at home, more consumers began focusing on upgrading or updating their homes, with the kitchen being one of  the most popular. A 2020 study by Remodeling Magazine found that kitchen remodels in the mid-Atlantic region netted anywhere from a 52.3% to 79.7% return on investment, costing anywhere from $24,049 to $137,700, depending on the scale. The 2021 U.S. Houzz Kitchen Trends Study found that across the nation, people spent, on average, around $35,000 for a major remodel or $8,000 for a minor remodel in 2020, which has remained steady year-to-year."
So what does that mean? Homeowners want more kitchen space! Spending more time at home means more cooking at home (I mean you really can only get take-out from your favorite restaurant so many nights in a row, right?).
"Countertops, backsplash, sinks and faucets were the most popular minor features to update, with more than three-quarters of respondents updating at least one of these. Bigger, and more expensive projects, like electronics, interior and exterior doors and windows were not as popular, with less than 30% of respondents updating these factors. For major features, homeowners preferred changing the kitchen layout, upgrading systems or modifying walls."
The trend suggests that it is so much more than cosmetic – people are changing their layout, appliances, counter placement, etc… Pretty and functional for the homebound. People seem to have the time, means, and drive to be able to make these changes now and who can blame them – no one wants to deal with that stove with the broken burner, dishwasher with the broken soap dispenser, or that counter that you keep running into every time you turn around!
Homeowners are turning to the experts in this trend too. I am sure some will be DIYers, but most homeowners are seeking help. "Eighty-five percent reported hiring a professional to do at least some of the work. The National Association of Home Builders found in a recent survey that remodelers are feeling 'confident' about the remodeling market in 2021."
Source: Kitchen Remodeling Trends Lean Toward More Storage | Pennsylvania Association of Realtors (parealtors.org)
I know I am not the only one that tries and tries to be a good house plant parent. They are great to liven up the room, give a splash of color, and even provide some much need ambiance —- and then somehow it dies and then it looks like…well dead.
I mean they're plants, how hard can they be to take care of ?! Wrong – apparently there are lots of ways you can kill a plant… unintentionally according to this article: 5 Ways You're Killing Your Houseplants—and How To Stop | realtor.com®
I have struggled with plant parenting all my life and now I have the tools to turn it around. I hope you will use these to your advantage.
---
Underwatering – One the most common reasons a house plant can meet its untimely end – the article states """The most probable cause of droopy leaves is lack of moisture in the soil base," says Horticulturalist Andrew Gaumond, of Petal Republic. "A moisture meter or probe—maybe even your fingers—are your best friends here to determine the moisture content around the base of the planter. If it's bone-dry, it's clear your plant is in need of a good drink."Another sign of underwatering is yellowing leaves."Yellowing leaves that feel a little crisp to the touch and are also potentially curling is another telltale sign your plant is underwatered," Gaumond says."
Overwatering – This may be my issue with my own plants. They just seemed like they had to be thirsty! "The most serious sign of an unhappy houseplant would be blackening or wilting leaves, which are often caused by chronic overwatering," says Zachary Smith, arborist and president of Smith's Pest Management. "This is a common problem with houseplants, where the plant has too much water and the leaves are wilting or drooping because the roots are suffocating in standing water," Smith explains.If you're facing droopy, blackened leaves right now, check the soil to see how wet it is. Be sure the plant has proper drainage (that is, a way to get rid of excess water) and let it dry out completely—for at least a week—before giving it any more water."
Inadequate Light – ""Brown or yellow leaves may be a sign of insufficient light or nutrient deficiency," says Smith." Do some research on your type of plant. Very important if you are going to try to find out how much or little light it needs. (Oh yeah – sometimes they prefer the dark… so difficult)
Too Much Light – Like I said above – difficult little buggers. ""A plant receiving too much light might draw its leaves down around the pot as it tries to get away from the light," says Lisa Eldred Steinkopf of The Houseplant Guru. "It also may be discolored and appear bleached out. Plants can actually be sunburned, just like us, and it shows up as dead patches of brown tissue on the leaves.""
Environmental Factors – Yep, a whole new level to consider. "Beyond watering and light issues, there are a few other things that can cause houseplants to die. Namely, environmental factors such as temperature and humidity levels. If a room is too cold, or a plant is drying out at rapid speed next to a heater, these could be reasons your plant isn't doing so hot. Avoid cold drafts, hot air blowing on them from the furnace, letting them dry out completely, keeping them overly wet, too low or too high light, and low humidity," suggests Steinkopf."
---
Keep these tips in mind and your plants will be back to their wonderfully happy, decorative, green selves again!
We all feel it-the coming holiday. When the gifts, the wrapping, and the decorations all go flying everywhere and it seems like EVERYTHING is cluttered – including the kitchen. Baking pies and dinners and… yeah we are tired thinking about it.
Well my fellow pack-rats, there are tips to help. We found this really cool article that outlined some organizational hacks to make your Kitchen Pantry "Instagram-Worthy". (How to Organize an Instagram-Worthy Kitchen Pantry | realtor.com®) I know – I'm sure you're thinking, "but that is only one section of my kitchen." Believe me I know, but there is something wonderfully fulfilling and therapeutic about organizing bits and pieces. No need to get overwhelmed by it. Take it one section at a time.
---
The article lays it out like this:
Clean it out – Start with a fresh canvas.
Shelve it – Pantry shelves are a must, but they recommend adjustable ones, so that it can change with your needs over time.
Categorize it – Create zones for your pantry. Easy to go in a grab it if you know exactly where it is going to be! No more going in for baking supplies and coming out with a can of soup. Label your sections and stick to it!
Ditch the packaging – This is such a space saver! With two little people at home we stock up on snacks all the time! Those boxes and bags can be…overwhelmingly annoying if you lack the room for them. Try some airtight containers and throw away those boxes! The article gives some recommendations for me aesthetically pleasing ones if you are interested in that.
Spin it, stack it – Storage is scarce in tight spaces, so utilizing tools to make it more accessible can never hurt! Turntables, lazy susans, rising shelving units, etc…
Bin tags & labels – Okay, I know what you are thinking my fellow pack rats: "Who on earth has a label maker at home?" and "Who has the time?" My response to you is – "If you don't, you should." and "I thought it would too, but turns out they make the handheld ones that you just type it in and print it right there and you are good to go! No time AT ALL" GAME CHANGER, friends! You can label your canisters, baskets, and bins in your kitchen for sure, but you can use it for so much more (Ask me about my kids arts & crafts supplies sometime…)
Don't overstuff – You DO NOT have to fill the ENTIRE pantry. Go you for stocking up, but if it is packed tight – odds are it is going to be very difficult to move or see anything. This will make all the work you did to try yo organize it kind of pointless.
Remember go slow with organizing. It can be super fulfilling and is not meant to be stressful, but can seem daunting if rushed. You can do this, friends! If I can – you certainly can.