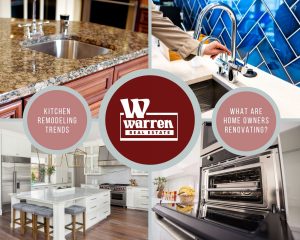 2020 was certainly a year of challenges and adaptation – many articles that we have seen and the clients we have talked to have given us insight about the current market trends.
"With more time at home, more consumers began focusing on upgrading or updating their homes, with the kitchen being one of  the most popular. A 2020 study by Remodeling Magazine found that kitchen remodels in the mid-Atlantic region netted anywhere from a 52.3% to 79.7% return on investment, costing anywhere from $24,049 to $137,700, depending on the scale. The 2021 U.S. Houzz Kitchen Trends Study found that across the nation, people spent, on average, around $35,000 for a major remodel or $8,000 for a minor remodel in 2020, which has remained steady year-to-year."
So what does that mean? Homeowners want more kitchen space! Spending more time at home means more cooking at home (I mean you really can only get take-out from your favorite restaurant so many nights in a row, right?).
"Countertops, backsplash, sinks and faucets were the most popular minor features to update, with more than three-quarters of respondents updating at least one of these. Bigger, and more expensive projects, like electronics, interior and exterior doors and windows were not as popular, with less than 30% of respondents updating these factors. For major features, homeowners preferred changing the kitchen layout, upgrading systems or modifying walls."
The trend suggests that it is so much more than cosmetic – people are changing their layout, appliances, counter placement, etc… Pretty and functional for the homebound. People seem to have the time, means, and drive to be able to make these changes now and who can blame them – no one wants to deal with that stove with the broken burner, dishwasher with the broken soap dispenser, or that counter that you keep running into every time you turn around!
Homeowners are turning to the experts in this trend too. I am sure some will be DIYers, but most homeowners are seeking help. "Eighty-five percent reported hiring a professional to do at least some of the work. The National Association of Home Builders found in a recent survey that remodelers are feeling 'confident' about the remodeling market in 2021."
Source: Kitchen Remodeling Trends Lean Toward More Storage | Pennsylvania Association of Realtors (parealtors.org)