Closed Residential Sales Tells the Tale of Springtime Bidding Wars and Posting Highest Average Sales Price Yet
Another unprecedented year continues to unfold for Warren Real Estate and the real estate industry with its own set of opportunities and challenges. Opportunities for sellers to receive multiple offers and higher sales prices; and challenges for buyers that include a lack of inventory and delayed closings. Through it all Warren Real Estate agents have navigated these times with professionalism and expertise.
Let's begin by sharing that a lack of inventory caused unprecedented sales prices and bidding wars. Comparing last year's inventory between April to June to this year, we see a 41% decline. This lack of inventory caused excited buyers to become frustrated and caused some sellers to receive multiple offers and thus higher than expected returns.
In July, the average list-to-sell ratio was 103%, making it the third straight month where, on average, houses sold over list price.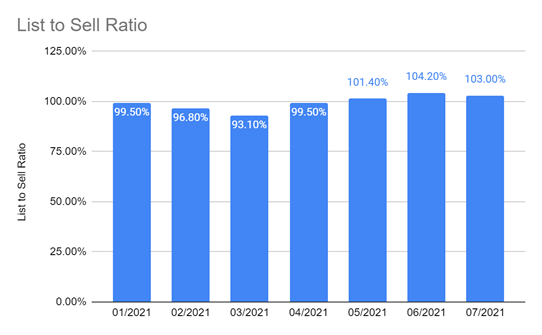 Behind these numbers are the stories of the houses that sold for an impressive 10, 15, 20, and even 30% over their list price. Will we see this trend continue?  As the contracts written in June and July begin to close, we will see.  Nevertheless, agents are reporting a decrease in multiple offers on many properties, the notable exception being lakefront.
Length of closings have changed over the past few months.
The closings we are now seeing are from contracts that were predominantly written during the Spring and early Summer. To date, the time span for listings going from contract to close is nearly 79 days, representing about 2 1/2 days longer than the previous year (just over 11 weeks).  This is remarkable given it wasn't long ago that Warren Real Estate was experiencing 45-day closing.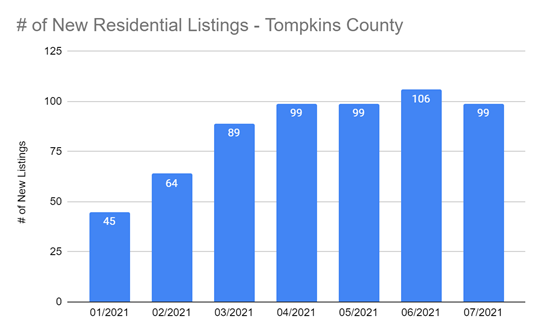 The anticipated relief of increased listing activity in late summer seems to have moderated a bit. July brought on nearly a hundred new residential non-waterfront listings in Tompkins County, on par with last year. If this trend continues, we can expect to see a downtrend in listing activity leading into the fall similar to last year, where the number of new listings declined by 28% from August to September.
It is evident that list price in our area continues to be a reasonably accurate indicator of property value.
This is due to the expert advice that agents give their clients to enter the market with reasonable expectations of value. The higher sales price is reflected in July's average closed sales price, the highest monthly average yet, at $375,358. By contrast, the average listing price for residential properties in Tompkins County in July, dropped by over $70,000 to $281,595.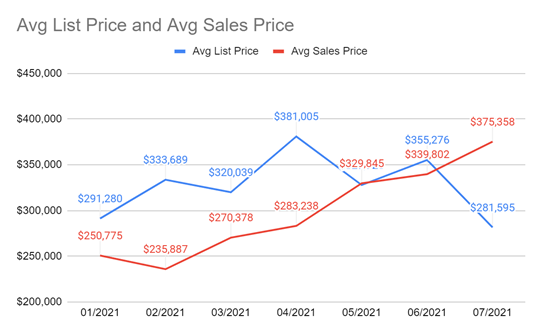 It is still a good time to buy or sell real estate.  Your Warren Real Estate agent knows the real estate landscape.  Your agent can help you take advantage of opportunities, and guide you through challenges whether you are buying or selling your home, land, or commercial property.  We work hard to be the best in the business.
With vaccination rates on the rise and travel restrictions becoming lessened, many believed that the purchase of vacation homes would go down. The trend suggests that is NOT the case!
"The 2021 Vacation Home Counties Report from the National Association of Realtors (NAR) shows that this increase in vacation home sales continues in 2021. The report examines sales in counties where "vacant seasonal, occasional, or recreational use housing account for at least 20% of the housing stock" and compares that data to the overall residential market.
Their findings show:
Vacation home sales rose by 16.4% to 310,600 in 2020, outpacing the 5.6% growth in total existing-home sales.
Vacation home sales are up 57.2% year-over-year during January-April 2021 compared to the 20% year-over-year change in total existing-home sales.
Home prices rose more in vacation home counties – the median existing price rose by 14.2% in vacation home counties, compared to 10.1% in non-vacation home counties.
As the data above shows, there is still high demand for second getaway homes in 2021 even as the pandemic winds down. While we may see a rise in second-home sellers as life returns to normal, ongoing low supply and high demand will continue to provide those sellers with a good return on their investment."
What does this mean for you?
If you purchased a vacation home – you can sell with confidence as there are many buyers looking right now or just enjoy it! It is a good investment in the current market! Need help purchasing a vacation home or selling your current one? Contact a Warren Agent today! 
Article Source: Demand for Vacation Homes Is Still Strong – Keeping Current Matters
"June is National Homeownership Month.
This is a time to celebrate the work REALTORS® do to help New Yorkers across the state achieve the American Dream of homeownership.
What better way to celebrate than to help first-time homebuyers? The
NYSAR Housing Opportunities Foundation
offers $2,000 grants to first-time homebuyers who work with New York State REALTORS®." Take advantage of this opportunity. Work with an agent today!
Get started on the
home buying process
and contact a
Warren agent
. Learn about the buying process and trust a professional to help you through your home buying transaction. Check out our buyer tips page and get informational market reports, tips on insuring your investment, common terminology used in real estate, checklists, and more… Warren Real Estate will help you navigate the
Real Estate Process
by Making it Simple.
Buyers and sellers can often feel lost when it comes to the flow of a transaction and can benefit from a primer. The closing process can take 30 – 60 days from the date of contract acceptance. Let a our real estate professionals help you understand the importance of each step. These buying tips provides knowledge that better prepares buyers and sellers to expect the unexpected.
"Every day, New York REALTORS® assist families and individuals in becoming homeowners. Yet, we know that many are left behind. The NYSAR Housing Opportunities Foundation was created to help these families and individuals in overcoming the obstacles to homeownership as well as to promote safe, decent and affordable housing for all in New York State."
Safety Tips for Home Sellers
If you are trying to sell your property, there are some safety guidelines you should follow to keep yourself and others safe.  The fact is you home is being exposed to strangers. Potential buyers want to see your entire home, even inside closets and kitchen cupboards.  While the vast majority of homebuyers are safe, honest people and are accompanied by a licensed real estate agent, precautions are necessary for the rare possibility that just one could see your home as an opportunity for crime.
Here are some safety tips measures for sellers to take before your home is shown to buyers:
Remember to remove keys, credit cards, jewelry and other valuables from the home or lock them away
Remove prescription medications from medicine cabinets and bedside tables
Firearms, knives (including knife blocks in the kitchen) and other weapons need to be removed from sight and locked away
Bills, invoices, credit card statements, and anything with your social security number or other identifying information should be removed from view
Family photos and anything labeled with names should also be removed
Request that all visitors sign a guestbook or roster
There are many reasons for using a licensed real estate agent, but one good reason is your Warren Real Estate agent is a professional that takes precautions to minimize security risks .
If the seller is showing the home without an agent, here are some safety tips for you:
Request that all visitors sign a guestbook or roster and enter and leave through one door only, except when you escort them to the backyard, garage, etc.
Never discuss your personal schedule or habits with potential buyers
Have quick and easy access to all exits
Without hovering, escort prospective buyers through your home by following them (never leading them) and keeping them within sight at all times.  Keep a reasonable distance between you and your visitor. Never enter a room with a visitor. You could be trapped inside
Keep your path clear for a speedy exit
After an open house, check all the windows, doors and other entrances to make sure they are locked
Never park in the driveway (they are able to block you in) park on the street so you can exit easily.
You always want to be the last one in and the first one out.
When in a room stay toward the door way.
Walk with your cell phone in your hand.
Carry your keys between your fingers.
Protect Your Money When Buying a Home – Confirm Everything
Every day, hackers try to steal your money by emailing fake wire instructions. Criminals will use a similar-looking (but fake) email address and steal a logo and other info to make it look like the email came from your real estate agent or title company.
You can protect yourself & your money by following these steps:
BE VIGILANT
Call, don't click: Verify all wiring instructions before transferring your funds. Call the title company using an independently obtained and known phone number. Don't use phone numbers or links from an email. Be aware: It's extremely rare that wiring instructions will change at the last minute, or that this information will be provided by email.
PROTECT YOUR MONEY
Confirm everything: Ask your bank to confirm the name on the receiving account before sending a wire. Verify Immediately: Within four to eight hours, call the title company or real estate agent to confirm they received your money.
WHAT TO DO IF YOU'VE BEEN TARGETED – Immediately:
Call your bank and ask them to issue a recall notice for your wire.
File a complaint with the FBI at www.lC3.gov.
Report the crime to your local FBI office.
Making a report within the first 24 hours provides the best chance of recovering your money.
For more information about mortgage closing scams, please visit: NAR.REALTOR/WIRE-FRAUD
This is for informational purposes only and should not be considered legal advice.
Source: NATIONAL ASSOCIATION OF REALTORS®
If you are unsure of an email that relates to a transaction with a Warren Real Estate agent, please contact us to verify.  Warren Real Estate will not ask you for password information. Your home is big investment. Protect your money when buying a home.
Inventory Is at an All Time Low
2021 is starting off with a BANG! in real estate. Article-after-article, we are seeing that 2021 is going to be a great year in real estate. It does come with some challenges though.
"…mortgage rates that are hovering at historic lows and forecasted by experts to remain favorable throughout the year. One challenge to the housing industry, however, is the lack of homes available for sale today. Last week, the National Association of Realtors (NAR) released their Existing Home Sales Report, which shows that the inventory of homes for sale is currently at an all-time low."
"Total housing inventory at the end of December totaled 1.07 million units, down 16.4% from November and down 23% from one year ago (1.39 million). Unsold inventory sits at an all-time low 1.9-month supply at the current sales pace, down from 2.3 months in November and down from the 3.0-month figure recorded in December 2019. NAR first began tracking the single-family home supply in 1982."
FOR BUYERS: "Be patient during your home search. It may take time to find a home you love. Once you do, however, be ready to move forward quickly. Get pre-approved for a mortgage, be prepared to make a competitive offer from the start, and know that a shortage in inventory could mean you'll enter a bidding war. Calculate just how far you're willing to go to secure a home and lean on your real estate professional…"
FOR SELLERS: "Realize that, in some ways, you're in the driver's seat. When there's a shortage of an item at the same time there's a strong demand for it, the seller is in a good position to negotiate the best possible terms."
The 2021 housing market is going to remain strong. If you are buying, selling, or both – you can do so with confidence! Contact a Warren Agent for information about you market. 
Source: What Record-Low Housing Inventory Means for You – Keeping Current Matters
Common Terms for Buyers
Buyers and sellers can often feel lost when it comes to the flow of a transaction and can benefit from a primer so we are providing you with a short video tutorial with common terms for buyers. The closing process can take 30 – 60 days from the date of contract acceptance. Let a Warren Real Estate professional help you understand the importance of each step. Their knowledge better prepares buyers and sellers to expect the unexpected. Before embarking on your next real estate contract, reviewing the process can help make real estate very easy.
Purchasing a home is a smart investment. However, if you're purchasing a home for the first time, there is some terminology you need to be aware of regarding your future home mortgage. Knowing the terminology involved in your mortgage will help you stay on top of the mortgage process and allow the entire process to run smoothly. Familiarize yourself with these terms and keep yourself out of the dark.
Learn more about Adjustable Mortgage Rates, PMI, Title Insurance, Rates, Escrow, Percentage Rates, Appraisals, Closing Costs from a Warren Real Estate Professional. Visit warrenhomes.com to  view Market Reports for Ithaca, Binghamton, Vestal, Corning, Horseheads, and Watkins Glen.   There is a buyer checklist, buying estimates, and the real estate process. As well as many other great resources. 
Looking for an agent
? You will find over 150 professional real estate agents at Warren Real Estate.
Mortgage Rates and Affordability – Why does it matter to you?
According to NAR's research economist Nadia Evangelou,  30-year fixed mortgage rates increased to 2.79% from 2.65% last week. Buyers should not be discouraged since the inflation is subdued, so if you are thinking about buying now is a good time to begin your search with a Warren Real Estate agent. 
Jobs are still a concern. Experts believe that both employment and inflation will pick up later this year. Why are experts so confident?  Businesses are re-opening all over the country and the US is making large steps forward in dealing with the pandemic. These events will create market stimulation and will cause an increase in prices. This will increase mortgage rates slightly. NAR is forecasting the 30-year mortgage rate to average 2.9% and 3.0% in the first and second quarter of 2021, respectively.
"Housing demand will remain very strong… households earning $100K can afford to buy more than 60% of homes currently listed for sale nationwide. This translates to nearly 770,000 homes across the country as of November. Respectively, households earning $75K can afford to buy nearly half of the homes that are available for sale, " said NAR.
In the Finger Lakes, the market is heating up. If you are interested in buying or selling, contact a Warren Real Estate agent today. The mortgage rates and affordability are really at the perfect point for buyers and sellers.  This is truly the time to make your buying or selling dreams come true. 
(Source https://www.nar.realtor/blogs/economists-outlook/instant-reaction-mortgage-rates-january-14-2021)
Updated COVID-19 Procedures 5/19/2021
Warren Real Estate's COVID 19 policy remains the same.  We ask that anyone dropping off packages or mail to please place these items in the drop-box (mailbox at the Waverly location). If you must enter the building, we ask that you please call for a health and safety screening before entrance. Please see the contact information below for Updated COVID-19 Procedures:
Waverly: 607-565-3491
Front Street: 607-235-3333
Corning: 607-936-2844
Watkins Glen: 607-703-0111
Horseheads: 607-398-6416
Vestal: 607-217-5673
Downtown Ithaca: 607-330-5288
Ithaca: 607-330-5596
Please wear a mask in the building at all times! We appreciate your patience and understanding through this time.
We have been very fortunate during the pandemic and have been able to conduct business. If you would like more information on Real Estate activity during COVID-19 you can review this article.
In our efforts, we have been sanitizing work stations, shared equipment, and public areas to decrease exposure. Additionally, these new policies will allow us to keep record of those people entering the building in the event we need to contact-trace due to exposure. The information will not be shared with any other parties and will only be used for internal office use in the event of potential exposure.
Warren Relocation From Anywhere to Anywhere
Creating a relocation packages that are personalized and contain the most up-to-date information about the area. Specially trained Warren agents deal with relocation. We want you to feel comfortable and know that you are in good hands, which is why we personalize each relocation package. No two situations are exactly the same!
Details that may be over looked by others, but not at Warren.
The best local day cares.
Schools in the community, both public and private, and tours of the schools to help your child adjust to moving.
Businesses that fit lifestyles – nail salons, art studios, yoga, shopping, golf clubs, etc…
We provide city tours for Ithaca, Binghamton, Dryden, Corning, Cortland, Danby, Elmira, Watkins Glen, and so many more! We can provide rental assistance for the interim or long-term placements, with a personal consultation to help you prioritize your relocation needs. Your agent will have constant communication.
Need to sell your current home too? No worries  – we can give you marketing assistance and get the ball rolling. With 68 years of experience, Warren Real Estate can help in selling you home. Let us take the stress load off of you, so you can focus on your relocation goals.
We can give you expert advice that will simplify the process. We have a full understanding of the stressful nature of a relocation. Warren Relocation – From Anywhere to Anywhere
Want more info? 
Contact Kelly Zayac (Draper) Greene today. We use our vast network to make connections with other areas and get you moving in the right direction. Leave it to our experts at Warren!